Taking Care of Yourself During COVID-19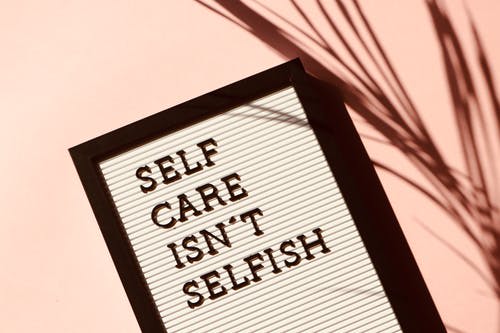 The pressure in my chest intensified when I raised my voice at my children who were resisting their usual bedtime routine – a regular occurrence since their school was cancelled during our new "shelter at home" reality. After going to the doctor, nervous about all possibilities, I was glad to hear that my chest x-ray and EKG came back normal. My doctor gave me a diagnosis that put most of my concerns to rest but also raised new ones: my chest pressure was mostly likely a result of muscle strain and that added stress and anxiety from the current COVID-19 pandemic was likely exacerbating my symptoms. The path forward required that I spend time on self-care, something that few of us have had time or resources to spend time on outside of work and family.
Over the past several months – as our work environment has shifted to one where we work at home – mental health is at the forefront as we determine how to best cope with this complicated balancing act at home. My story is just one of many. Added to the mix are feelings of boredom, loneliness, and anxiety about contracting the virus. As a co-founder of Kanarys, I encourage employees to talk about their lived experiences at work in order to create a call to action for employers to improve their efforts towards diversity, equity, and inclusion. The result of having a workplace where you feel like you belong is positive psychological effects contributing to mental well-being.
In order to continue what we have long championed at Kanarys, our team members have scoured resources for the best self-care tips to help others cope with the uncertainty of COVID-19 and stay grounded through this storm. These tips have personally helped me during these difficult times, and we hope that you find value in the collective wisdom.
Tip #1: Stay connected with family and friends. There are ways to stay connected with family and friends that don't require in-person interactions. I kind of scoffed when the first of my friends suggested a virtual "happy hour" on Zoom. I thought the idea was silly and I begrudgingly joined the happy hour with a glass of sauvignon blanc while my husband dealt with the kids. It was very comforting to connect with my friends, hearing and seeing that I am not alone in my struggle as we shared our concerns with each other. I have more virtual happy hours scheduled, even reaching out to friends and relatives that are not tech savvy to spread the joy of connection.
Tip #2: Take personal time. When life is normal, we tend to have personal time built into our schedules – whether when you are taking a nap, driving to the office, running errands, or hanging out with friends. None of this is possible during the pandemic, especially if your city, county or state are observing "shelter at home" restrictions. On top of that, if you have children, free time has become that much harder to find. However, it is that much more important to intentionally create free time during the pandemic while still observing social distancing parameters. For me, this looks like taking a long shower or bath, taking a quick jaunt around the neighborhood, going to my room to read a chapter of a book, or enjoying a television show once the kids are in bed.
Tip #3: Maintain physical health. Aiysha Malik, a World Health Organization psychologist, advises that "we can feel mentally better if we are as physically well as possible." Malik's advice includes eating healthy foods, staying physically active, getting regular sleep and rest, and creating structure in your daily routines. I am personally a stress eater. When I am feeling stress or anxiety, I grab the closest piece of food full of sugar. I've had to be very intentional about ordering and preparing fresh vegetables and fruit. My strenuous physical activity that I am accustomed to doing (hence, my chest strain) has been minimized during my injury, but I take the kids out for a long walk daily so all of us can get some exercise and sun. Many of the gyms, studios and other similar businesses are offering their classes virtually or opening up their membership so you can work out at home.
Tip #4: Set daily schedules and take breaks. Taking sufficient breaks during the workday helps to maintain my sanity and allows me to connect with my kids throughout the day. I find that working diligently for 2-4 hours, depending on my work schedule, and then spending an hour away from work to spend time with kids doing schoolwork, art activities, outdoor activities, etc. works well. My husband and I try to communicate the day's schedule with each other so we can take turns spending time with the kids. Most importantly, I recommend that everyone be realistic about expectations. I was initially overwhelmed by the number of resources, links, books and letters I received from my kids' respective schools. Ultimately, I decided that my children most likely won't get the best education here at home, but I will try my best, so they continue their journeys in learning. At the end of the day, this will hopefully be a little blip they won't even remember in their education as a kindergartner and pre-K schooler.
Tip #5: Pick up old hobbies or try to explore new interests. Let's face it – in the pre-pandemic world, there was rarely enough time in our day to do anything other than focus on work, your significant other/spouse or family. Given our current circumstances, you may find that you have a bit more time to focus on activities that you couldn't do before. Maybe it's time to learn a new skill, take foreign language lessons, learn how to play the guitar, or pick knitting back up. If you have young children like I do, which makes this a bit more challenging, find activities that you can enjoy with your children. I've had fun with my kids doing puzzles, drawing and baking. My kids have had a blast baking cupcakes, chocolate chip cookies, pancakes and biscuits. I will say that the one silver lining in all this is that I am spending more quality time with my kids than I have in years.
Tip #6: If you can do so, give back to the community. Every one of us is struggling through these times, some more than others. Contributing to non-profits or providing food and other essential services to the needy is essential as we try to maintain normalcy. Giving back results in a greater sense of purpose, and the joy of giving back to others boosts our self-esteem. Recently in my home, we spent a few hours with the kids picking toys to donate to charity. It was a great learning activity with the children about the importance of giving back to the community.
By following these tips and being intentional about doing so, I can proudly say that I feel much calmer about the unknown and, perhaps most notably, my chest pressure has subsided. Take care of yourself so you have the bandwidth to provide the love, care and support that your loved ones need as well. We are all in this together.