How To Power The Engine Of Business Growth With Diversity And Inclusion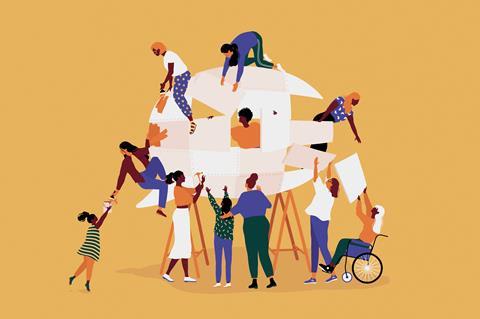 By Carmen Morris
Increasing diversity and inclusion across leadership, has been a clarion call for some time… but could it help to fire the engine to awaken business growth and produce more stable and productive businesses?
Diversity is a given. Inclusion is a choice. In the current climate of uncertainty, brought about by Covid-19, and the looming global recession, diversity and inclusion could prove to be the elixir to stability and growth in the difficult times ahead.
Diverse perspectives help leaders to solve problems, therefore diverse talent enables a company to view problems through a multitude of perspectives.
A diverse and inclusion rationale, allows leadership to increase performance, in terms of how it solves problems, and manages rapidly changing external challenges.
The Future of Work
Businesses across the globe are planning in earnest for the future, and whatever it may bring. Business process optimisation can support leadership to embed diversity and inclusion, and create solutions to harmonize company culture and increase synergy with customers.
A highly developed organisational culture is one that embraces diversity and inclusion, in order to buildupon its strength. It seeks to develop and empower employees to thrive, yet so many are missing out on the impact of inclusion.Most Popular In: Diversity & Inclusion
The global pandemic, which has seen a major shift in the world of work which has taught us several things:
1 The world of work is changing
2 Diversity and inclusion is relevant
3 Flexibility is key
4 Technology is here to stay
Steve Megson is the Managing Director of Quiet Storm Solutions, which specialises in behaviour and business process optimisation to create intelligent solutions for sales, marketing & communications.
He analyses how businesses interact with their people, customers and other stakeholders, then works collaboratively with leadership to drive out waste and optimise their processes.
Working with a long list of brands, including global names, Steve takes diversity and inclusion seriously within his work. In a recent interview, he described his understanding of diversity and inclusion, as a key component for increasing resilience in tough times.
Steve provides 3 useful tips about how inclusive leadership can help to rebrand business to strengthen resilience.
Your brand must have an emotional connection and be relevant
In a competitive world, people are your competitive edge
Diversity drives healthy conflict stimulates paradigm innovation
Your Brand Must Have An Emotional Connection To Be Relevant
A businesses purpose is its reason for being, beyond profit. Purpose underpins brand values. Values influence how we make decisions, act, and react.
A clear purpose goes beyond products or services and instead, describes what impact or change, the company can make in the largest context possible.
Steve explains that:
"by standing for something bigger than what they sell, businesses and brands can connect people to what's important in their lives."
Human beings are social animals and want to be part of something. Maslow's famous hierarchy of needs suggests that the highest-level human needs have to do with creativity, respect by others and belonging to a group.
Creating an emotional connection to a company that separates it from the rest, creating brand loyalty, over time. This means that connecting with as many people from different backgrounds and developing a community of loyal, engaged and valuable brand stakeholders, is of uppermost importance.
Diversity and inclusion supports a business to maintain relevancy by connecting with the needs of as wide a range of customers, as is possible.
In A Competitive World, People Are Your Competitive Edge – Always
Whether the focus is on growing diversity of markets, customers, ideas, or talent you'll find people are at the heart of every business decision.
Every business needs people, and people are making choices of employment, brand and products increasingly based upon the social media conversations that PR cannot control.
By 2030, it is estimated that millennials will make up 75 percent of the workforce and they have a strong instinct for social justice. They already serve as powerful and influential advocates, or critics, in cyberspace.
Companies that want to attract these bright young minds as the future talent within their business, and want to retain them as loyal brand ambassadors, must be:
the type of company that takes equal care in listening to employees,
the inclusive workplace where every voice and every story matters.
A business is never finished if it's people and customers are engaged. Innovative leaders will always find ways to improve and grow, by engaging and attracting diversity, enabling them to reap the benefits of inclusion.
Diversity Drives Healthy Conflict And Stimulates Paradigm Innovation
Everyone has unconscious biases, and the way you 'label' people influences your thinking and decisions. Understanding one's own background and experiences, and those of the people around us, creates a paradigm.
Having a diverse group of people around us, means we get a wider perspective, because it creates healthy conflict, and when this is encouraged, you get ground-breaking thinking.
The 4 P's of innovation are: Product, Process, Position and Paradigm. Paradigm innovation is where ground breaking thinking takes what is needed and re-imagines a better solution.
Diversity is a key driver of innovation.
Proximity drives empathy, an empathy provides insight which enables you to identify who's excluded, which then sparks innovation.
Before Henry Ford developed the first Model T, which was produced in Detroit in October 1908, motor vehicles were only for the rich.
The largest market for the car was those excluded, Ford made cars the everyday person could afford – and the rest is history. Look for those excluded and find a way of delivering what they want and need.
In his own line of work, Steve uses digitisation to produce web applications and operational software to manage systems, processes and key performance indicators.
He states:
"diversity and inclusion is a key deliverable, which maximises end results, and can be managed and monitored through purpose built technology, which actively measures levels of inclusion."
Having relevant data, maximises a company's ability to monitor diversity and inclusion, and flag up potential bias, that can impact a business negatively. It also helps to focus a business on key priority areas, relating to the 4 P's of innovation.
Organisational Culture
A highly developed organisational culture, (one that embeds diversity and inclusion), is key to planning for the future. Leadership must embrace this fact.
Organisational culture, rests upon the very values of a business. To enable the creation of a positive environment, virtual or otherwise, inclusion must become key inputs and outputs of company objectives. It must be measured.
All this requires commitment, not rhetoric. As we make tentative steps, towards a huge unknown, it is time for leadership to step forward, supported by strategy and key commitments, that are measurable.
Leadership must create, and reinforce diversity and inclusion, as a key driver for organisational culture change, and growth, as we move towards what may well be a permanent change in the world of work and business.
Organisational philosophies, processes and people agendas, must ensure that diversity and inclusion operates as a catalyst for best in class business, employee and customer relationships. It is the elixir for developing businesses that are attractive, innovative and well prepared for growth.
Sharing ideas… Nobody Does it Better
How people work together, as a team and with external partners and customers, shapes our business experiences, and ultimately the bottom line. This requires comprehensive strategy, data and a real intention to become more inclusive. 
Originally posted on Forbes