How This Hollywood Creator Is Shattering Glass Ceilings For Latina Women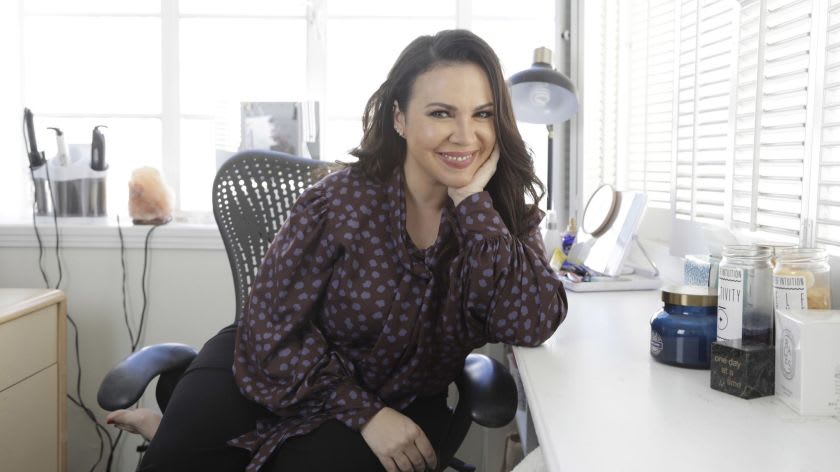 By Cheryl Robinson
In an industry that has yet to level the playing field regarding women's roles behind the camera, Gloria Calderón Kellett, executive producer and showrunner, continues to break the infamous glass ceilings for Latina women in Hollywood. Most recently, she inked a three year deal with Amazon Studios that makes her the first female Latinx writer and creator to sign an eight-figure contract.
"The Amazon deal starts in June," Calderón Kellett smiles. "I am so excited. When I met with that team, they just are doing such incredible work for specifically women and people of color like Phoebe Waller-Bridge and Lena Waithe. They support incredible female voices. So, to now be among those names, I'm pinching myself."
In line with all other Hollywood productions, One Day At a Time had to postpone production of the remaining last seven episodes until the quarantine ban is lifted. Today, the last filmed episode will air on Pop Network. Initially, Calderón Kellett co-created and executive produced the show for Netflix. After three seasons, the show found a new home on Pop. She also served as co-showrunner alongside Mike Royce. Even with the Amazon contract, she will still executive produce the family sitcom of a reimagining of Norman Lear's 1970s classic.
"How am I handling it?" she laughs. "I mean, one day at a time. We have finished writing the entire season. We have seven episodes ready to shoot once it is safe to return to work. We look forward to that day!"
Over 15 years ago, Calderón Kellett's began her Hollywood career as an actress. Her agent sent her to audition for the stereotypical roles that included gangbangers' girlfriends and sisters. Out of frustration, she started focusing on writing stories that were more indicative of who she was as an actress and how she viewed her community. "I'm a first-generation American," she explains. "My parents came here from another country. Here I am and here's what I sound like, and I have a master's degree. I think there's such a limited point of view about who we are. Certainly, that affects how people are treated. I've seen it. I've seen how culture change can happen. Obviously, the LGBTQ movement has been huge. I got to see that. I got to see Will and Grace and Ellen and all of that, and then the change it made for gay rights and gay marriage. I was really impacted by that and saw that there was a way to rectify the situation by writing.
After working on major sitcom hits, including How I Met Your Mother and Rules of Engagement, Norman Lear approached her to create her own story. During pre-production, Calderón Kellett onboarded director Pamela Fryman, director of How I Met Your Mother, who encouraged Calderón Kellett to pivot into directing. To date, she has directed five other shows, which include the new season on Mad About You, in addition to One Day At a Time. 
Originally posted on Forbes