How the "Chinese virus" stigma impacts inclusion
COVID-19 is having many impacts on society – and it is also impacting inclusion. President Donald Trump called coronavirus (COVID-19) the "Chinese coronavirus" in a tweet on March 16th. When asked why he used that term, he responded in this video: " 'Cause it comes from China. It's not racist at all, no, not at all. It comes from China, that's why. I want to be accurate,".
Shortly after, Texas Senator John Coryn disparaged China's culture and defended President Trump's use of the "Chinese virus" in this video. While many have criticized these statements as racist, these sentiments illuminate how the fear of the coronavirus is manifesting as racism and discrimination against people who are of Chinese or Asian descent.
We know that the coronavirus is transmitted by proximity and not based on ethnicity or nationality. According to the Centers for Disease Control (CDC), people – including those of Asian descent – who do not live in or have not recently been in an area of ongoing spread of the virus that causes COVID-19, or have not been in contact with a person who is a confirmed or suspected case of COVID-19, are not at greater risk of spreading COVID-19 than other Americans. However, many people of Asian descent are feeling the impact of xenophobia and ant-Asian racism that have increased since the spread of novel coronavirus.
Inclusion professionals are looking for ways to support employees
More than 9.5 million Asian American and Pacific Islanders over 16 years old are employed in the U.S., according to the U.S. Census Bureau. Of that 9.5 million, more than 2 million Asian Americans and Pacific Islanders work in health care, transportation, and service industries and are facing xenophobic and racial discrimination in the workplace in addition to increased exposure to communicable diseases, the Asian Pacific American Labor Alliance (APALA) said on March 5. Many diversity and inclusion professionals and employee resource group (ERG) leaders are looking for ways to support their employees of Asian descent during this time. Here are 6 immediate actions from APALA you can take to support inclusion efforts for employees from Asian descent: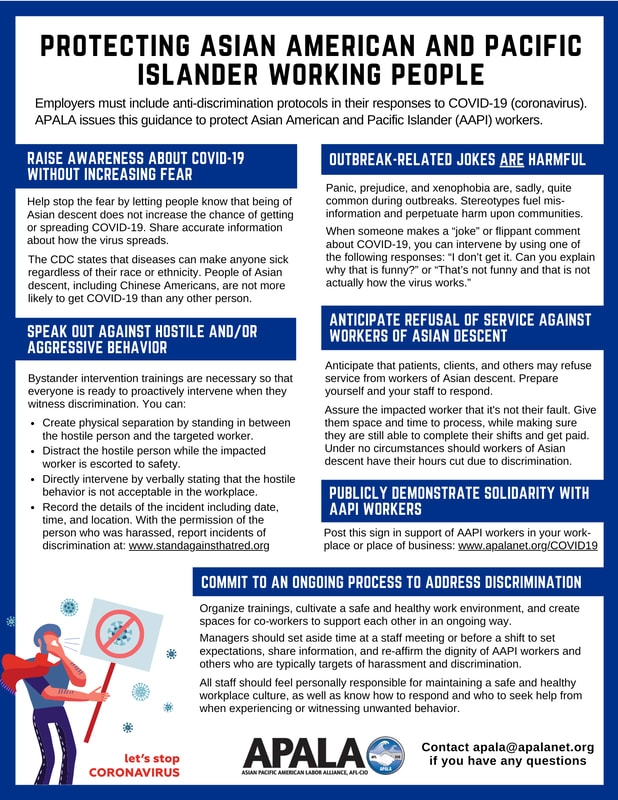 Sources:
Find the ratings and reviews of companies by logging into your Kanarys account, or create an account to find workplaces that value inclusion.